Daar Abdullah Ibn Masud is a Maktob and a Musalla in Carlingford. This is a commercial place in the first floor; the entry to the Maktob is from the front, main road. There are two toilets and more than 30 parking spots on premises. There are more
free parking spots next to Bunnings.
We have facility for 5 times Salah and Quran classes for all ages. In this Ramadan we are running Taraweeh Salah - 20 rakat, khatma Quran in the Musalla. We are also running Jumua Salah in near by scout hall.
Currently we are offering following Quran courses:
Advanced Tajweed
Najarah
Noorani qaida/Iqra book
Please
contact us
for more details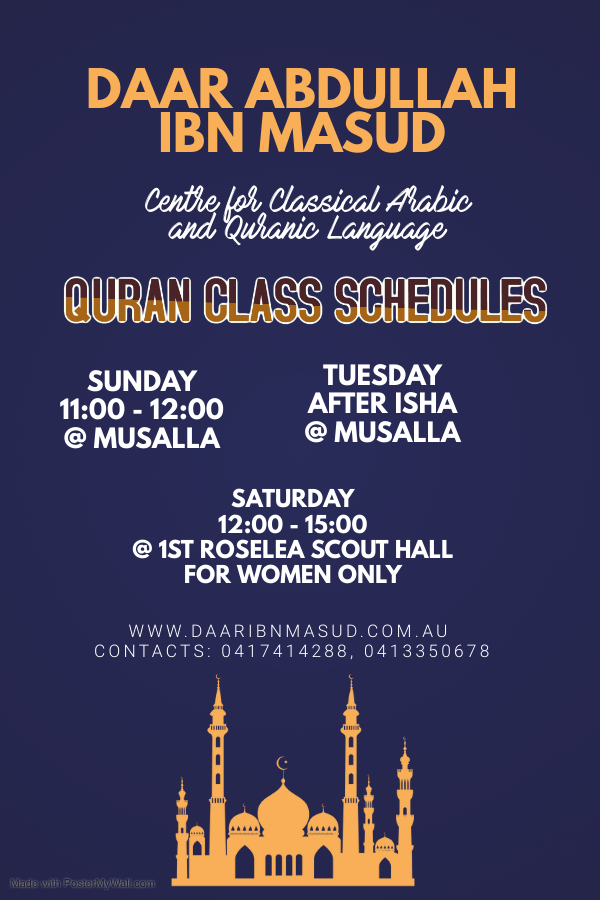 Account Name: Daar Abdullah Ibn Masud
BSB no: 082 356
Account no: 97 433 6223
We request local brothers for the donations that will be used for expenses eg. Jumua hall hiring, Moktob weekly running costs.
Daily Salah:
For daily Salah times, please visit
Go Pray
Taraweeh Salah:
20 rakat, full khatma Quran.
Jumua Salah:
We organize Jumua Salah in a scout hall Khutba starts: 12:55 pm Venue:
1st Roselea Scout Hall, Plympton Rd, Carlingford
More than 60 car parking spaces on premises. Street parking is available as well.
Resources for learning Quran: